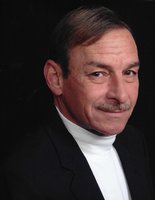 Richard "Ricky" Lamar Boyd Sr
Richard L. Boyd Sr. age of 64 years old passed on November 26, 2017 wrapped in love of his family. We'd like to thank the Salt Lake City VA hospital for helping him be comfortable in that time.
He was known as Ricky throughout his life. Born of Mea Collins and Bay E. Boyd but Raised and Loved Dearly by Beckie Sealey in Eastover South Carolina. Born July 14, 1953.
He joined the Airforce in 1972 traveled to many places including Thailand. Came back state side Married Shirley M. Higgins. He worked for Kmart Auto Care as Store manager, moved around with company to Ashville NC , Columbia SC and Myrtle Beach SC. Worked for Seamist Resort as Maintenance Supervisor. Widowed on December 6, 1995 .
This man could pick a Guitar, cast a line, not that he liked keeping any fish, only if we made him. He had a knack of charming the babies, the big ones and wee ones. He made it an art of making everyone feel Welcomed and Wanted with Big Hey How Ya Doing always using their name. Sitting with him was easy, he would tell joke after joke after joke. He NEVER had a bad thing to say about anyone.
Survived by the Beautiful Rosa Gomez his Love of 3 years. Oh the Adventures they went on but more than that he would say "just sitting with her doing Nothing was definitely Something". His Daughter Rita Lynn Boyd his Junior Miss. (Mike Belka) Her 4 kids. Richard Lamar Boyd Jr known as Rick or lil Rick and his 4 kids.
We invite you to Celebrate this wonderful mans life. Open house at Rita's home in Taylorsville Utah Saturday December 9, 2017 6pm to 9pm
And Again in Myrtle Beach SC 2nd week of April 2018 times and dates to be Determined. Bringing him Home to rest Ocean Woods Memorial Cemetery.