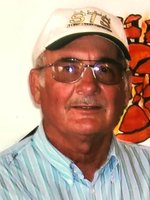 Harry Eugene Seder
Harry Eugene Seder was born on October 28, 1940 in Sheridan, Wyoming to Harry and Anne Seder. He was the oldest of six children. He passed away February 8, 2018. Harry spent much of his childhood in Hardin, Montana growing up on the family farm. He graduated from Hardin High School in 1960. Harry moved to Salt Lake City after high school. He met his wife, Susan, at a gas station and they were married three months later on March 2, 1963. They spent almost 55 years together and had two sons.
Harry was a hard worker and was employed by Garrett Freight and ABF retiring after 30 years of service. He was an avid trap shooter and loved spending time at the Bonneville and Magna gun clubs. He made many friends there over the years that were very important to him. He loved to spend his free time in his workshop reloading shells. He kept his farming roots and grew amazing gardens each year turning some of his harvests into dill pickles and salsa sauce that everyone loved.
He and Susan enjoyed spending time together trap shooting, playing cards, bowling and dancing. He loved watching his two boys grow up swimming, playing water polo and teaching them how to fish and hunt. He passed his love of the outdoors on to his grandchildren and liked to hear about all their success in sports and school.
He is survived by his wife, Susan, his two sons Donald (Laura) Seder and Daniel (Keli) Seder, five grandchildren (R. Jay, Rebekah, Ben, Brady and Kate), one great grandson (Ray), brothers Wayne (JoAnn) Seder, Dan (Judy) Seder, sisters Shirley (Marvin) Schwend, Linda (Garry) Krieger, sister-in-law Susan Seder and many nieces, nephews and friends. Preceded in death by his parents, brother Kenneth Seder and in-laws (Richard and Marion Youngson).
A celebration of his life will be held on Thursday, February 15th from 6:00 – 8:00 pm at Independent Professional Services Crematory & Mortuary 4555 South Redwood Road. Parking is available behind the building in the cemetery loop. Burial will be held at a later date in Evanston, WY. In lieu of flowers, please make donations to the Shriner's Hospital in Harry's name.