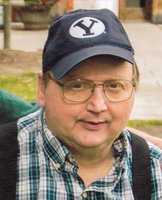 David Wayne Berry
David Wayne Berry was born December 3, 1953 to Kenneth and Fanny Berry, in Salt Lake City, Utah. Our beloved husband, father, grandfather, brother, uncle, and friend, passed peacefully at home with his loving wife by his side March 13, 2018. Dave married his sweetheart, Pamela Burningham, in the Salt Lake Temple. He loved being with his family; they brought him great love and joy. As temple ordinance workers, Dave and Pam found peace and happiness in doing family history and serving in the temple together.
Dave touched the lives of many people as he brought them into the gospel while serving an LDS mission to Texas; this was a precious time in his life, and he continued to be a missionary even after he returned. He was active in the LDS church throughout his life.
Dave loved camping, hiking, and swimming, which always included treats for the kids along the way. Each trip was a week long, staying one night in a motel, the rest of the time camping. Every year it was a fun tradition to attend the Manti Pageant. Mt. Rushmore was a highlight adventure for the family. The kids looked forward when it was their turn to go with their Dad to "take a kid to work" day.
When the children were little, they remember their Dad singing "Edelweiss" to them every night before they went to sleep. He was always there to tuck them in. Dave loved to sing and was in madrigals in high school. He loved singing with his Berry brothers, a choir of their own.
David is survived by his wife, Pam, children, Dawn (John) Crown, Pam (George) Joaquin, Teresa (Robert James) Laing, Debbie, Brian (Jami) and 14 grandchildren, Racheal, Austin, Nicole, Ben, Robert James Jr., Donna, Jesse, Mackenzie, Melissa, Emma, Thomas, Brooklyn, Abbigail, and Ephraim, also, his seven brothers and four sisters. He was preceded in death by his parents, Kenneth and Fanny Berry.
Viewings will be held Thursday March 15, 2018 6-8:00 pm and Friday March 16 one hour prior to services.
Funeral Services will be held at 11:00 am March 16 in the Hunter Stake Center. Address 3737 South 5600 West, West Valley City. Interment at Valley View Memorial Park.