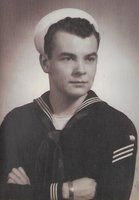 Edward J Mills
Edward J Mills, 86, our beloved husband, father, grandfather and brother passed away on March 24, 2018 at home surrounded by family.
He was born in Syracuse, New York to Edward J. Mills and Florence L. Shandelmeyer. Married Nathel Yaussi (later divorced). They had four children, Michel Mills, Gary Mills, Leann (Mills) Goodsell and Sharri (Mills) Winkelkotter. Married Colleen Daniels in Novermber 1968. They shared 49 and a half humorous years together. Step children include Debbie (Humphreys) Alexander, Vickie (Humphreys) Stevenson and Doug Humphreys. Ed had one sibling, his sister Edna (Mills) Bissell. Preceded in death by his granddaughter Tennille Stevenson.
He has several grandchildren and lots of great-grandchilden. He enjoyed spending time with them.
Ed served four years in the United States Navy. He was a jack of all trades. He worked in a service station business, owned his own brake business, a milkman for Winder Dairy and finally worked as a machinist/mechanic at Tooele Army Depot where he retired.
In his younger years he enjoyed slalom water skiing, boating, camping, fishing and hunting. He took up golf in his later years and had many friends he enjoyed golfing with.
He always had a joke to tell. Many life stories like hitchhiking across the states as a teenager. He always worked hard and lived a good long life. As he tells it "I never expected to live this long!" Some of his favorite lines: "Duh!" "There goes another flock" "I'd like to congratulate you on your tremendous feet!"
No service at Ed's request but A Celebration of Life is scheduled in the near future. Information will be posted on Facebook, word of mouth and family.