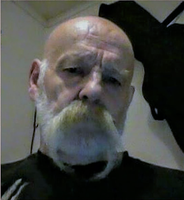 Paul C Martin
Paul C. Martin
(Rusty)
February 8, 1951 - March 20, 2018
Paul C. Martin was born a 5 lb. 6 oz. redhead, in Cortez, Colorado on February 8, 1951. His dad was a traveling drug salesman for Z.C.M.I. (really). He was named Paul Clyde Martin but his dad didn't necessarily want a little Paul or a Jr. so the red hair made him Rusty. He went with being Rusty until, in kindergarten, he told them he was Paul. From then on, he lived life on his terms and he was funny, sarcastic, exasperating, and a tease that could make your head explode and nothing was off limits.
Some examples; in Jr. High, he and Kenny Martinez attempted to climb through the ventilation system from the metal shop to the girl's locker room. He and Dave Hilton made matchstick rockets and launched them from his Mother's broom, ultimately setting it on fire. Or the time he bought fake dog poop and put it in the parakeet cage. He was a Beta and then a Greaser. He had a garage band…The Lords, when he was in Jr. High. Music was so much a part of his being. All through his life he played guitar. As an adult he always had a Martin 12 string. He wrote amazingly beautiful songs and it was always a treat when he played and sang.
When he was 15 a surprise baby sister came into the world. His mother had severe postpartum depression and he would stay home from school to take care of the baby (and his Mother). His Mother adored him in the way only a Mother can. He was a man of so much intellect, so much talent and such potential.
He loved being a miner! First above ground at Kennecott and then underground for Anaconda…he loved everything about it.
His kids were amazed at his fluency in three languages: English, sarcasm, and music. He practiced them all regularly and with enthusiasm. He loved the challenge and adventure of the ultimate river trip and was an ardent runner of the rapids in Cataract Canyon.
His love of music, with his guitar as his conduit was the highlight of any celebration or gathering. He appreciated literature as he did music and this legacy has been passed on to his children and grandchildren. He loved being Papa
He married Maureen Jones, divorced. Married Charmaine Poll, divorced. He leaves behind three sisters, Cynthia, Paula and Diana, five amazing children, Craig (Kerry) Martin, Paulette (Ken) Goto, Corrine (Ryan) Harrison, Melanie, Kelly (Angel) Martin, and eight grandchildren, Ian, Shane, Juliet, Logan, Eric, Xavier, Gia and Braiden, and greatgrandchildren, Dominic, Lillith, and Xander.