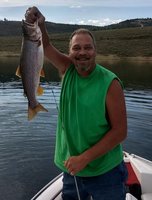 Mark Edward Pace
Mark Edward Pace, age 51, died October 22, 2018.
Mark is survived by mom Carole Pace, sister Cindy Robinson, nephew Danny Pace, niece's Shelby and Samantha Robinson.
Mark will be missed for his permanent smile and great sense of humor.
He was a hard worker and enjoyed his most recent job driving a truck.
He was very popular in high school, was a member of the madrigals concert singing group, JA-Junior Achievement, track, baseball and football, an all-around athlete. He was fun and rewarding to watch participate.
He loved and appreciated old traditional country music. His favorite thing was to go fishing anywhere and everywhere.
He also loved his family and friends very deeply.
We also appreciate his service in the Army National Guard. He was very proud of that accomplishment.
He will be loved and missed by family and friends very much.
GONE FISHING