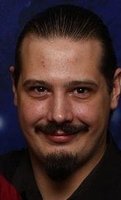 Jason B Higbee
It is with great sorrow that our family announces the passing of Jason Brent Higbee, in the first week of December 2018. Jason leaves behind his wife, Amy; his daughters, Nichole and Natasha; his parents, Brent (Diann) Higbee and Suzanne Scott; his sisters Lorraine de'Danann, Carolyn (Sean) Whitesides, Breanne Higbee, and Rebecca Higbee; and many nieces and nephews.
Jason was born on June 5th, 1976, in Salt Lake City, UT. He was the oldest child, and the only son. He worked in IT security for the last 12 years. Jason was always quiet, private, aloof, and the smartest guy in the room. Jason will be remembered for his quick, sometimes dark sense of humor, and his noncommittal shrugs.
A memorial service will be held at 11:30am on Saturday, December 22nd, at 6410 South 725 East in Murray, UT. A wake will be held at 5pm at A Bar Named Sue (8136 State St in Midvale).
In lieu of flowers, we are accepting donations toward a cremation mausoleum space as his final resting place.